The Warrior Totem is one of the new totem poles that was added in this patch. Here is a list of most new features and bug fixes in version 3.03. The new version has already been released on Desura and should be waiting for you if you have bought the game.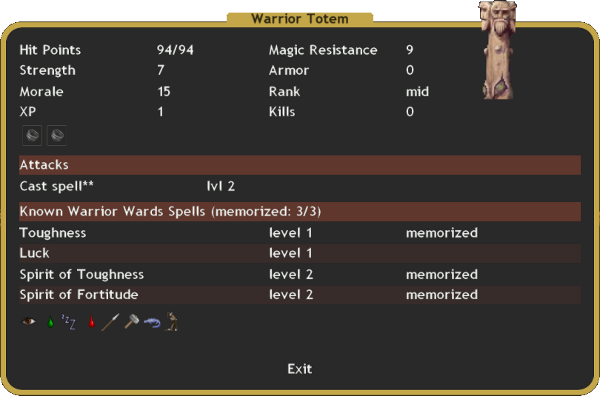 New Features and tweaks:
Game Over reveals score graphs and map.
Optional score graphs.
You now get to play one turn after defeat when using --battlereports in order to see the last battles.
Barbarian starts with a random totem pole.
Barabarian can create Totem poles.
Mounted scout for barbarian.
Year shown in season popup.
's' changed to remove slow units.
'f' changed to remove fast units.
's' and 'f' can now be used to both select and deselect.
+/- to select/deselect 10 unit of a specific type at once.
Effigy.
Rune Smith now requires dwarves of appropriate type to create elite dwarves. No more force growing from the Dvala, so she no longer needs to be present.
Meteor crash site is now revealed to the entire world.
New Hero messages has a goto commander button.
Single player games no longer have a 'Conan's turn' message before every turn (old games are not affected).
Income overview shows modified income per terrain type too.
Less bright player colors.
2 new random events.
New ability: Non magical invulnerability.
Demilich.
Player out messages will say who defeated the player.
Updated manual
Shortcuts for necromancer powers.
Some shortcuts changed so they can work from map screen too.
Manflayer is now fast.
Mound king can start with magic items.
Deserted town could not be sieged, fixed.
Mages will no longer cast fire resistance on fire elementals and similar.
It is now possible to plant Shadow Trees in cannibal villages.
Mindless beings can no longer get mental afflictions.
Troll forests can now be burned down.
Mounted Ancestral Barbarians are now fast.
Archmage citadel got extended vision.
Daughter of Dvalin now pops 3 dwarves per months.
Dwarf costs adjusted
No terrain popup when mouse is inside income or commander box.
One new spiritism spell.
Boar Warrior and Werebear are unique reqruitments, Epona cavalry is not.
Season show on network wait screen.
F5 to view score graphs (if enabled) during 'Conan is playing' in network play.
Watchtower sightings not updated correctly to allies in network game, fixed.
Mind Slime Horror had broken confusion, fixed.
There was a small chance for a stop/junk sprite to appear in mountains, fixed.
Longdead triarius didn't have a long pike, fixed.
Ettin replaced both weapons with one magic weapon, fixed.
Manticore flick barb had wrong sound effect, fixed.
Necromancer sensed dead animals too, which does not correspond with what can be raised, fixed.
Dots showing AP left were not always correct, fixed.
Dwarf income penalty was incorrect, fixed
Reanimated target didn't always follow reanimator automatically (bolt of unlife, doppelgangers), fixed.
Experienced Retiarius got disease causing net attack, fixed.
Not possible to make druid major summon in brigand lair, fixed.
Some stat changes.
Vampire could not upgrade, fixed.
Some new or altered sprites.
Hellhound can no longer bite and breathe at the same time.
Ghoul claw replication power printed in weapon info.
Mummy has an equipable touch of the dead.
Sound effect for vampire transformation.
Dragon did not cost gold, fixed.
Technical changes:
Performance improvements, especially for large maps.
Removed flicker when moving with keyboard.
Portals could cause game to crash during AI movement, fixed.
Bad default TEMP directory on Windows if environment variable is not set, fixed.
Sound system shut down properly on exit now.
Improved file name sanitation.
Command line switches are now passed through the Desura start script on Linux.
All textures loaded on demand.
Typos fixed.
Faster scroll wheel zoom speed.
Map editor map size incorrectly limited to 127, fixed.
Modding & Maps:
Very limited modding support is now available.
Map commands: Player -1 on events used for the player that triggered the event.