Greetings, Patriots! If you've been unsure whether or not to Alpha Fund Children of Liberty, now's the time! In honor of the 237th anniversary of Paul Revere's Ride and The Battles of Lexington and Concord, i.e. the events that Children of Liberty commemorates, we are pleased to announce that Children of Liberty is on sale for just $4.99 until the end of 4/19. Holy smokes!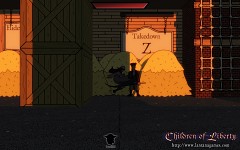 For those wondering what the alpha funding will be going toward, well, it's going toward the game's development! Seriously, that's it. We've got no other cons we're heading to for a while so all sales go directly toward further development of Children of Liberty.
As for an update on the game itself, we're definitely working, there's just a lot of things to fix up since PAX. For instance, one of the biggest incoming changes is adjustments to Ally's speed and acceleration, to make sure she's not nearly as frustrating to play as she is now. Also some cosmetic tweaks here and there to the Warehouse level, like adjustments on the signs. More changes and improvements on the way in 0.3.1, hopefully due out by the end of April.
So what are you waiting for. $4.99! That's TECHNICALLY less than $5! Just click the button below to jump to our Desura page. The game is available for Windows and Mac.