Today's Progress!
Busy day on all fronts! Nathan fixed large entities from sometimes "forgetting" that you had some geometry below you. Thusly, the Starbreaker is now an impenetrable maze that once you get lost in, there's no getting out!
Gabe and Zack have corrected a bunch of issues with the mouse and interface, and have finalized the new material bar's code so that Gabe can wrap it up graphics-wise.
Lower Detail Collision
Micah tested and corrected the lower detail collision models for prefabs. Micah's main focus at the moment is to make sure all of the prefabs include a low detail mesh, since if you don't get'em juuuuust right, they can cause the character to flip about!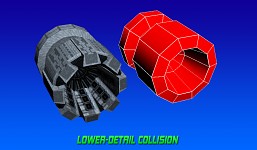 Prefabs
Terah's been working away with texturing the new prefabs by MrVorgra and Micah! We'd like to thank MrVorgra once again for his outstanding work, and remind any artists out there who'd like to contribute that you can learn how to by following some of the tutorials here!