This is the last article about Bardadum's development. You should really read the first and second articles before this one.

Funny bugs & bunny things
Like in any software development we had some bugs. Most of them were introduced by cancelling paths. One of them was funny.
Teleporters initialy worked fine but when i had to implement the cancel action some bugs had appeared. These allowed testers to stack two characters. Ok, it was quite late in the evening... so we started to play with this bug and to create new merged characters. We all created our favorite merged character and made it our Skype logo. Mine is a merlin-dragon.

Another funny thing was when I was talking to the Bardadum's XBox 360 developer who was fixing a bug in the level grid menu.
First you have to know that we are 2 french developers so english is not our native language. So we were talking about this menu, which is very cool for players but we had modified it many times. Then Romain - the XBox 360 developer - said to me that he had "problems to position the king on the grid". I tried to help him by telling how I manage to solve this problem and then I had a pause and I said: "But in english the character on the grid is not a king but a knight!". I immediatly saw his face changing. He just realized that he made a big mistake by translating "chevalier" in english with "king" instead of "knight".
So, in this menu, his code is entirely scattered with variables with "king" and of course showing a knight!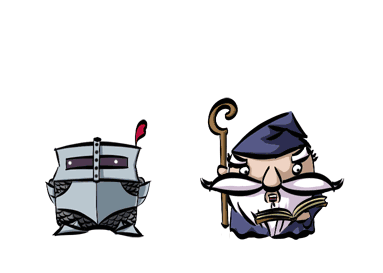 Well this is all technical things I can say about Bardadum. I really enjoyed to code this game and I hope you will enjoy playing it too.
Thanks for reading these long long posts.
Your developer,
Naël.
P.S: Sorry for the bug in the title