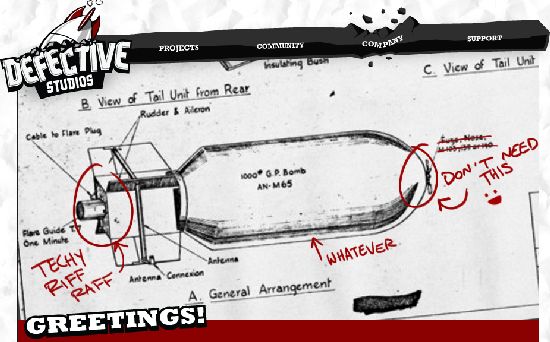 Starting this week, similarly crazy Boston-area developers Defective Studios will be helping us with Unity prototyping, including Ugly Baby. Pairing off with a team of skilled Unity developers has proven very successful so far with Owlchemy Labs, so we've enlisted in another team to help out on the Ugly Baby side.
Beginning in February, we'll provide regular updates about what we're up to along those lines. That (along with Elliot's Project DRP stuff) is a whole lot of developing going on, as we push to get some great games ready for PAX East 2012 and beyond.
Ichiro's goals with Defective are to investigate Unity and to decouple mechanics development from design. "I was doing everything myself, which sucked," Ichiro reflects. He finds Defective to be young, full of energy, and bright -- their cloud asset server is an impressive undertaking.
As it turns out, Defective is a group of 7 (5 full-time, 2 part-time) located in the Boston area, not far from Dejobaan HQ. Their number includes Jono Forbes, who worked as a 3D modeler and developer at the local 3DVIA; illustrator and graphic designer Jon Elliott; and tech artist "Danger," who cut his eye teeth as a modeler.
I can't wait to start sharing with everyone what Defective Studios starts creating with us!