How ready is the game?
The game is playable, both single-player skirmishes against AIs and multiplayer matches against one or more opponents. There are still some important features missing, among the more significant are: technologies, a multiplayer lobby and diplomacy.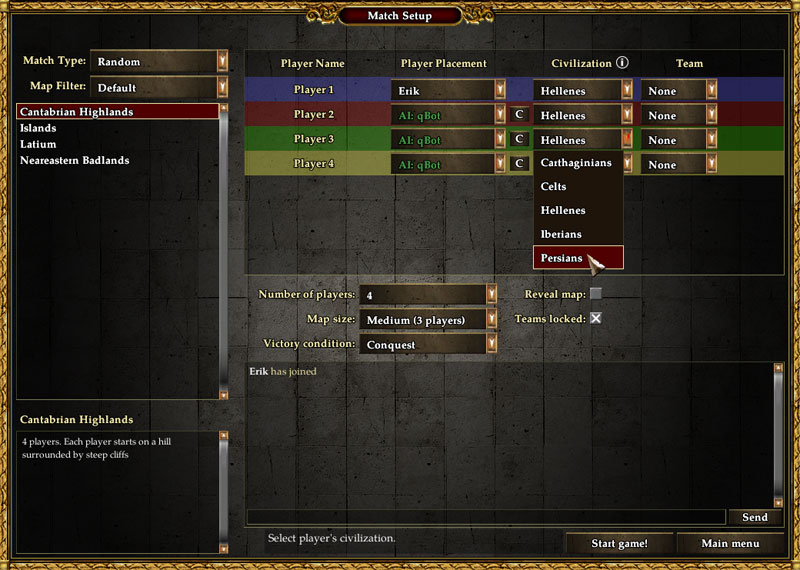 The setup screen for multiplayer games showing the options for random map scripts, one of the new features since last year. As well as the new GUI. Click the image to see it in greater detail.
What are some of the bigger improvements since the last IOTY?
Since the last IOTY we have added two of the remaining civilizations: the Iberians and the Carthaginians. In the upcoming Alphas we will add the final two, the Persians and the Romans. We have added several important gameplay features, including: Territories which adds new strategic options - limit your opponents access to resources by expanding, but don't expand too fast or you might not be able to defend it all. Unit stances, control the behaviour of your units - will they be defensive and only attack enemies coming near them or aggressive and follow them? A new AI, and the basic system to support many more. Random map scripting, with random maps the map doesn't have to look the same every time you play on it - a couple of maps are included, but users can easily create new ones if they have enough JavaScript knowledge. Unit promotions allows your citizen soldier units to become better fighters as they gain experience, remember to produce new citizen soldiers to have the most effective economy though as the higher promotion they achieve the less adept they are at economic skills. We've also updated the GUI in general and the main menu in particular, the old one had been used more or less since the project was started so it was in great need of an update. Another update which was pretty small, but that made a big difference was the change of FOV from 20 to 45. A less technical description is that 45° makes it look more 3D than 20°. The best is probably to take a look for yourself, see the following screenshots to compare: 20° and 45°. Open them up in two tabs in your browser and toggle back and forth to quickly see the difference.
How much has going OS promoted development so far?
During the last year being Open Source has proved very beneficial, both in code and art. We've seen several contributors going from Open Source contributors to becoming official team members, and also people who prefer to stay non-team members but continue to contribute in their own pace and in cooperation with the team. It's also proved a valuable way to evaluate possible applicants as we can ask them to prove that they are able to for example create a 3D model and then put it in the game for us to see.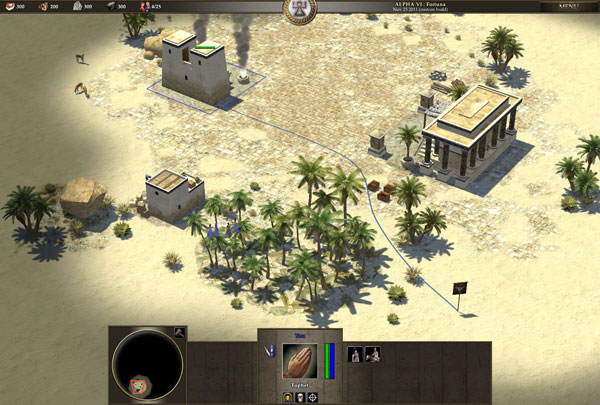 Rally point marker line, the line going from the building to the rally point. One of the things implemented by an open source contributor (our key word for anyone who contributes to the game without being a part of the official team).
What's next?
Upcoming is our eighth Alpha which includes the following major new features: Barter (exchange one resource for another), qbot (a new AI), the Persian civilization (many completely remodeled buildings and reskinned/re-animated units as well as new maps), better selection boxes (removes many of the previous issues where clicking on one unit/empty space often resulted in something else being selected), saving and loading of games, the ability to reconnect to multiplayer games if the connection is lost or if the game crashes on your computer, new and extended profiler, new music tracks, new sound files, new art, performance fixes and a host of smaller fixes and additions.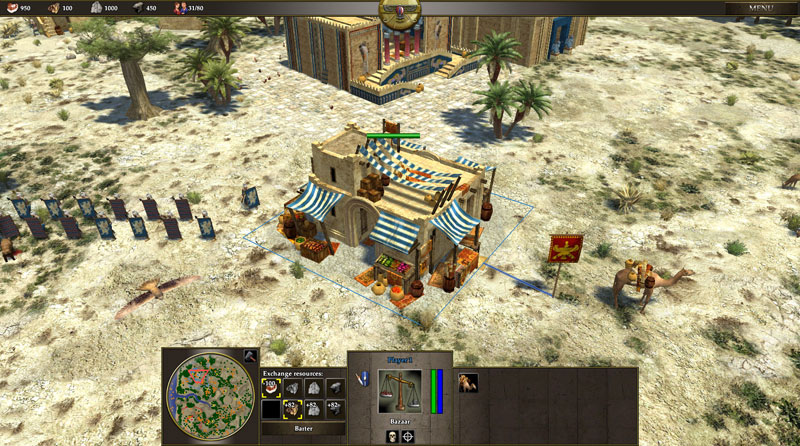 A screenshot showing the new feature "Barter" in the market. As well as some of the new Persian buildings included in the upcoming Alpha 8. Click the screenshot to see the image in greater detail.
Some major features we hope to include in the next couple of Alphas: The Romans will be included meaning that all civilizations will be available, there is still much to do in terms of smaller fixes and updates though. Technologies, at first the system has to be implemented and over time the tech trees for the different civilizations will be implemented as well. There is also work on a redesigned sound system (which will mean sound will finally be supported on Macs, and will also add a bunch of new features as well as help get rid of bugs), the first part of it should be included in Alpha 8, but to most users it will not be noticeable until later when more features are added. A custom multiplayer lobby server, and more.