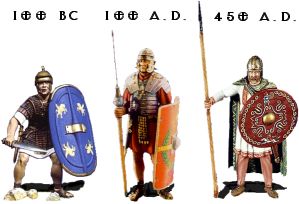 The weapons of a roman legionnaire changed over time as the needs of the Roman Army changed, however the longest lasting armament of the legionnaire was the one devised by Gauis Marius during his second term as consul in 101 b.c.
Gladius

The Gladius was the legionnaire's best friend in a battle. The Gladius was a short sword the blade was forged out of iron and the hilt and crossguard made from different types of wood. The Gladuis was used mainly as a close quarter stabbing weapon and was sharp enough too kill in just a few blows.
Pilum

The Pilum was a javelin made especially for the legionnaire. The legionnaire carried two Pila (that's the pural ofPilum) each one was relatively light and when the legion was marching they were carried in the free hand (the other one carried the pack) in battle the Pila was attached to the Scutum or shield. Pila were made from wood and iron, the tip was designed to break upon impact and if it didn't the ball at the base of the point would make it impossible to pull the Pilum out. The way Pilum were used in battle was in the following way: the first Pilumwas thrown once the Legion was lined up then the second was thrown as the enemy charged.
Scutum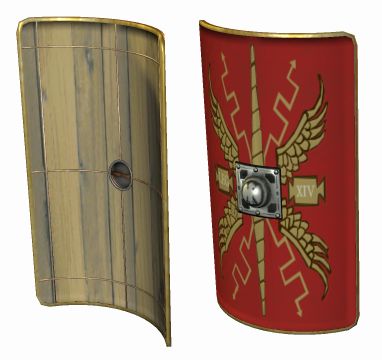 The Scutum was the tall shield that was the identifying mark of the legionnaire. Even though the scutum was not a weapon it was still an essential piece of roman strategy. Scutums were made from wood, leather, and a thin layer of iron, and were nearly impossible to pierce with an arrow. Scutum were used in the following way: after the Pila were thrown the legionnaires braced to receive the enemy charge, once the enemy hit the scutumthe legionnaire would throw himself against the shield, unsheathe his sword and attack.
The Typical Roman Legionnaire