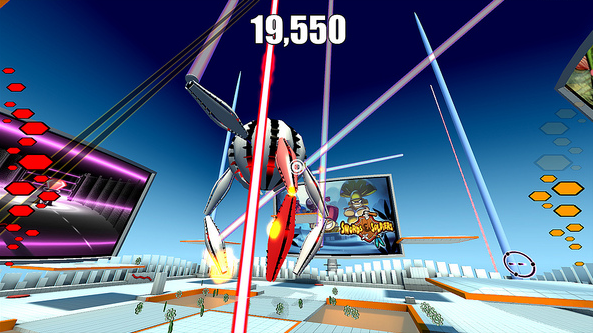 Continuing our discussion of our first-person arena shooter prototype Drunken Robot Pornography, we discuss here the abstract HUD and the power-ups that affect it and the player.
DRP has a red and yellow column along the sides of the screen, with the red indicating the player's health and the yellow indicating the jet-pack energy. Titans are huge and fire waves of weapons that require large, quick leaps to avoid. While the jet-pack automatically recharges over time, players with a lead finger will rapidly run out of fuel and fall into the bullets or lasers they want to avoid.
The purple, black and white circular item near the fuel gauge is one of three power-ups that help in these perilous situations. The power-up shown provides rapid fire to pick apart the titans more... rapidly. A jet-pack power-up increases the strength of the boost, and a third, hidden power-up increases health.
These are just a few power-up and HUD implementations, all of which could change post-prototype. Still, it's exciting to share the development with everyone as it's happening! Missed last week's post about scoring? Catch upon your DRP trivia and come back again next week!